Full Throttle Rock Interview
Interview with Mike Campese
By Dave Smiles
Mike Campese is a guitar virtuoso for the new generation of music fans. Taking the best of what has gone before and pushing himself musically and artistically into the future by writing within various styles. Through passion for his guitar playing and a love of music, Campese seeks to share these with an ever growing audience.
Mike took some time out of his busy schedule to answer some questions for Full Throttle Rock about his introduction to the guitar and music, creating songs and developing as a musician. We also talk about creation of his eighth album, Chameleon.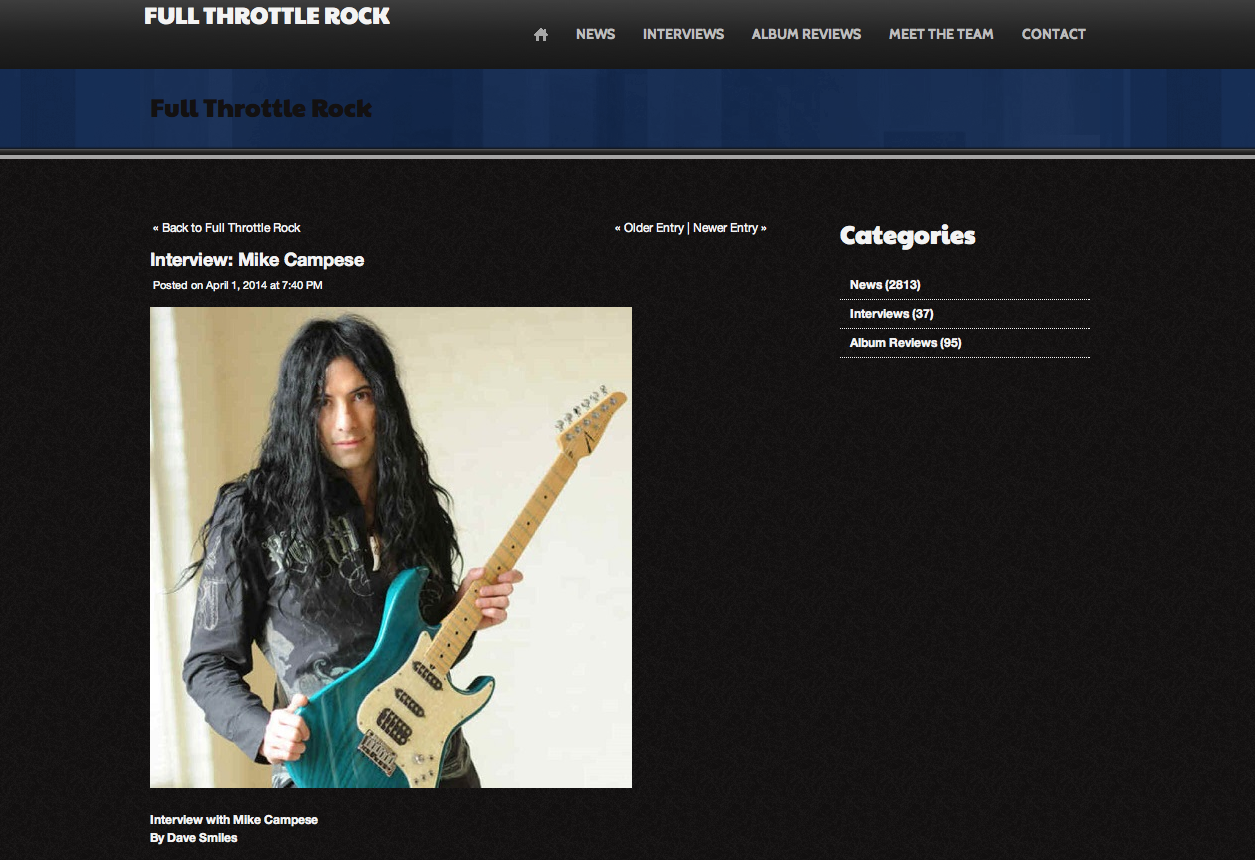 How did you first discover the guitar?
I always loved the sound of the guitar. My brother played guitar and I starting getting into Black Sabbath. They really inspired me to play guitar, especially when I bought their first album. Originally, I wanted to play drums and I asked for a set and I never got it. My sister and her boyfriend at the time bought me a bass at a garage sale and the next day I traded it for a guitar. I used to always hang at the guitar shop at the mall and my friend played drums and we started jamming right at the beginning.
Who are some of your influences, and what inspiration do you draw from them?
In the beginning Black Sabbath was a really big influence and I was into bands like Dio, Ozzy, Van Halen etc. I was listening to a lot of the guitar driven bands and my brother turned me on to Al Di Meola and that got me into the speed thing. The shred thing was getting popular and I started listening to Yngwie. I really started getting in classical music, my Dad was a violinist and I was listening to Paganini, Mozart, Beethoven and Vivaldi. Jimi Hendrix has always been a real big influence on me and Paganini's music I love and all great music is an inspiration. I really admire artists that are originators that have a big impact in the music world.
How do you compose your songs?
There is no one way that I compose. But, usually at first I get an idea or ideas and I like to record them so I don't forget them. If I feel the idea is good enough or if I like it enough to turn it into a tune, I will play off of that idea and it will evolve into a full tune. Sometimes the tune will just come together right before your eyes in a few minutes; those are usually the best ones. Also, I have written tunes on an airplane with just a laptop and no guitar and I have written full tunes this way or sections of tunes just by brainstorming on a certain set of notes etc. Even though I have different ways I write music, I mainly compose by ear.
Are you ever satisfied with your progression as a guitar player, or are you always pushing yourself?
I'm constantly pushing myself to be better as a guitarist and an all-around musician. In some ways I'm really happy about how far I came as a player, but I feel I have a ways to go. I'm very hard on myself and I'm always trying to get better and if you are always satisfied with yourself you never get better.
The new album, Chameleon, is very diverse in styles. Was this your intention when you started work on the album?
I don't think about it too much, I just start composing music and it all comes together. I know on this Cd, I wanted to keep the music coherent as possible even though it moves around a bit. I wanted the album to sound like it was the same person playing on the Cd and not just to throw in different styles for the hell of it. Over the years, I have learned and have been very open to many styles of music and it just comes out in my playing and writing. I write about true experiences, so the style for the tune may reflect it at that given time.
How did the collaboration with Vernon Reid from Living Colour come about?
Vernon and I have been friends for a while and we have always talked about doing something together. I was writing the tune "Do it for the Cats" for the "Chameleon" Cd and I thought it would be a great tune for Vernon to play on. I asked him if he wanted to play on the song and he said yes. I start the tune off and at the end of the tune we are trading solo's back and forth. The next time we do something together I would like to have him do more playing on it. It sounded great what he did and he is a great guy.
It's been well discussed that the music industry has drastically changed in recent years. Having been recording albums since the early 2000s, how have these changes affected you personally?
Even though the industry changed so much it didn't really affect me as a writer, because I write what I like and I don't follow trends or what is popular on the radio. But, since iTunes and all the downloading sites have gotten so popular, I'm selling less Cd's than I was. People are buying downloads of single tunes or the full Cd even though the Cd's better quality than the mp3's. Also, it is easier these days with the internet, artists can form their own label and they can market themselves more than ever.
How do you keep your playing fresh and inspired?
I still play and I practice each day as much as I can and I always coming up with new ideas. If I come up with a new idea that I really like, I will record it so I don't forget it and use it for a tune or a solo at some point. I always like playing new material, I like to improvise and be spontaneous. Not being satisfied with my playing really helps me get better as a player and writer.
What advice would you give to a young guitarist, or someone wanting to start a band?
Try to be independent and don't rely on anyone else. Strive to become a good song writer and you should be able to write a whole song by yourself, at least all the music. I think it is important for a guitarist to compose music and when a whole band writes the tunes all at once, it can turn into a mess if everyone has their own opinions. Also, it is real important to develop your ear and become a great rhythm and lead guitarist.
For those unfamiliar with your work, how would you describe your style and how would you describe your new CD Chameleon?
My music is guitar driven, diverse and to me it is just music. It could fall in the progressive rock category, which I call rock fusion. I mix different styles like rock, classical, jazz, funk and blues and a lot of times I don't think about the style, it just comes out. The music on the Cd "Chameleon" moves around a lot to different colors, much like the Chameleon – like creature. The Cd has some heavier progressive rock instrumentals, some jazzy blues and a little bit of funk as well. Also, the "Chameleon" Cd has a great deal of shredding, but in a melodic way and there are some vocal tracks as well.
Top five albums you'd take to a desert island.
That is a tough one, these days I would bring an iPod. He he! But, I like a bunch of albums and I will name some ones that really stand out that I have been listening to over the years. I really like Niccolo Paganini's, 24th Caprices and just about all of his music. Jimi Hendrix, Band of Gypsys and I like all of his music and especially his unreleased material. Al Di Meola, "Friday Night in San Francisco", Steve Vai, "Sex and Religion", Dream Theater, "Awake". The list goes on, I like a lot of Cd's and I jump around a lot with my music listening. I mainly listen to music in the car and at home I mostly listen to mixes that I have recorded.
The list of artists you've performed with or opened for is as diverse as your music. (Yngwie Malmsteen, Michael Schenker, The B-52's, Lou Reed, Spin Doctors, Sebastian Bach, Dokken, Kip Winger, Lizzy Borden, Vinnie Moore as well as being a member of the Trans-Siberian Orchestra and playing the Crue Fest with Motley Crue, Godsmack, Drowning Pool, Theory of a Deadman, and playing at the annual NAMM show with members of Public Enemy, Lady Gaga and Sting) Is there any other artist you'd like to work with?
Yes, I have worked and played with many artists over the years and there are many more I would love to work with. There are some more artists that I worked with, but I can't remember some of their names and when you are performing with a different artist it is a new experience. It would be great to work with someone like Ozzy or David Lee Roth and there is a bunch more artists I could mention.
Is there any chance you'll tour Australia in the near future?
I would love to come to Australia to do a tour. I have never been there before and I hear a lot of great things about it. There is this great radio station over there that has been playing my music for years, so I'm sure there are some people that are familiar with my work. It would be great to do some guitar clinics as well as some show dates. If I had the right offer and if the budget was there, I would be there in a heartbeat.
Thanks for taking the time to answer these questions.