"Chapters" Review, Mundo Rock.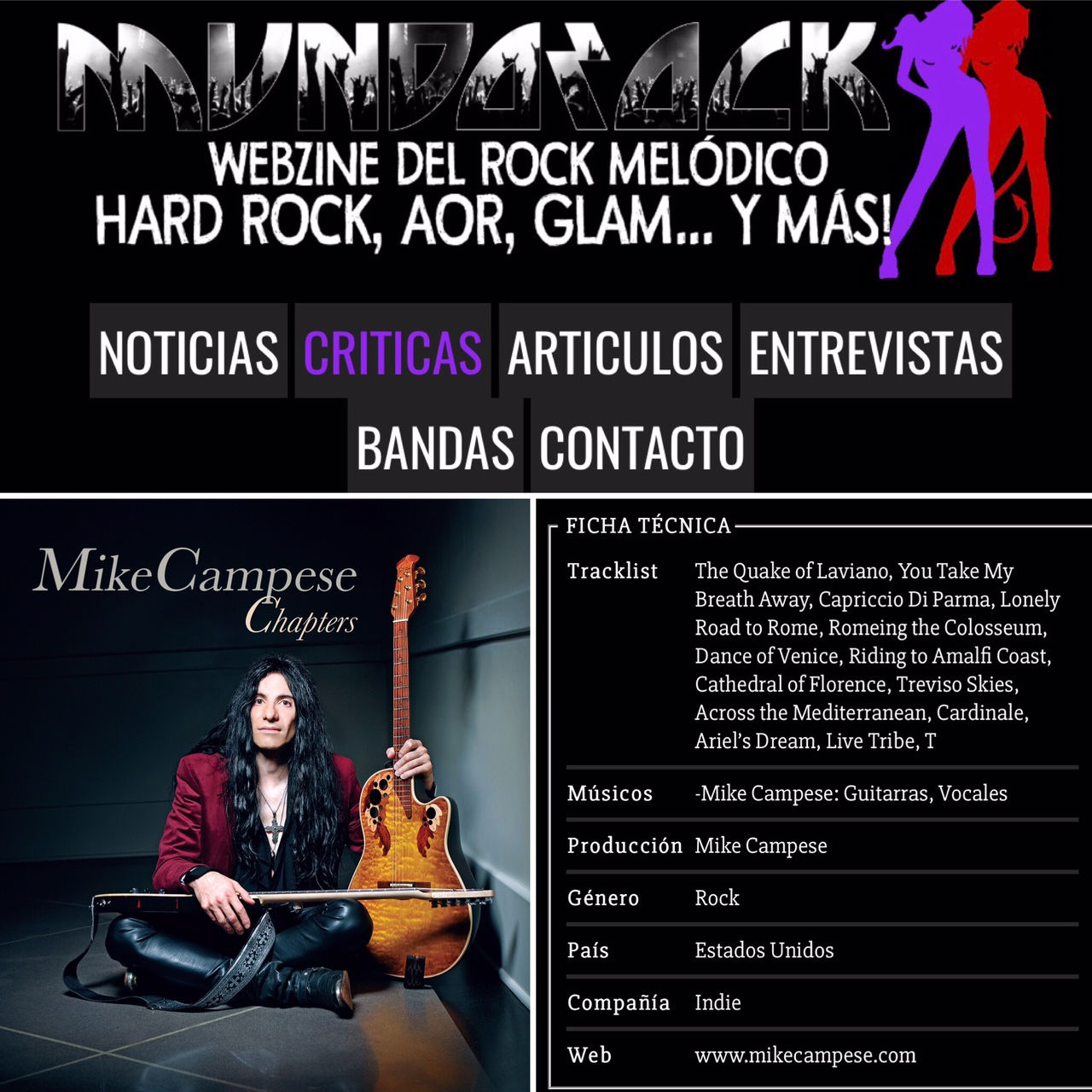 NOTICIAS CRITICAS ARTICULOS ENTREVISTAS BANDAS CONTACTO Mike Campese
Chapters (2016)
(Crítica por Diego Ramírez, Marzo 2017)
Mike Campese es un virtuoso gutarrista norteamericano, nacido en New York y que aparte de su carrera solista, ha contribuido en infinidad de álbumes de grandes luminarias de la música rock. Además ha realizado muchas clínicas en donde ha dictado cátedra con la guitarra.
"Chapters" es su noveno trabajo discográfico como solista. Se trata de una pieza instrumental en su mayor parte, y más específicamente un disco de guitarras acústicas, bastante intimista, eventualmente acompañado de algunas guitarras eléctricas. Algunos temas llevan sonidos algo tristes como "The Quake Of Laviano", que recuerda la tragedia de dicha localidad italiana sacudida por un terremoto en 1980 y en donde Mike perdió a varios allegados. También está "You Take My Breath Away", uno de los pocos temas en los que Campese pone su voz.
En general, es un buen disco, para escuchar en momentos de relajación.
FICHA TÉCNICA
Tracklist The Quake of Laviano, You Take My Breath Away, Capriccio Di Parma, Lonely Road to Rome, Romeing the Colosseum, Dance of Venice, Riding to Amalfi Coast, Cathedral of Florence, Treviso Skies, Across the Mediterranean, Cardinale, Ariel's Dream, Live Tribe, T
Músicos -Mike Campese: Guitarras, Vocales
Producción Mike Campese
Género Rock
País Estados Unidos
Compañía Indie
See full article at: Click Here!