Chapters Cd, Review – Slammin Tunes
Mike Campese — 9th solo album "Chapters" a real classic!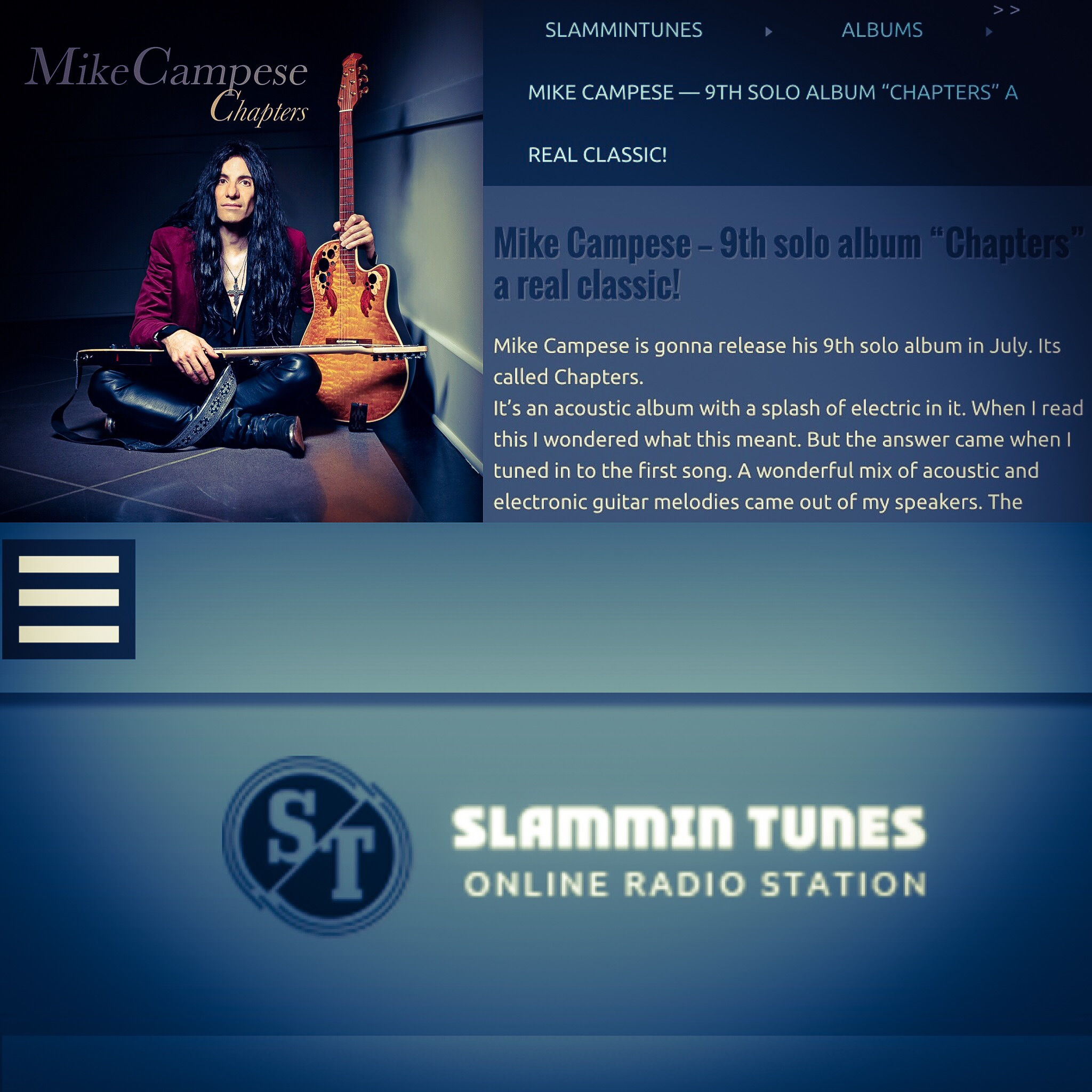 Mike Campese is gonna release his 9th solo album in July. Its called Chapters.
It's an acoustic album with a splash of electric in it. When I read this I wondered what this meant. But the answer came when I tuned in to the first song. A wonderful mix of acoustic and electronic guitar melodies came out of my speakers. The balance between the 2 different styles is just in perfect harmony,. Mike takes you in 15 songs with him on a journey through Italy and then heading out to some of the nicest islands of Hawaii
The compositions are fueled through inspiration while visiting new locations and how can you go wrong with a beautiful country like Italy. Not only is this album heavily inspired by Italy, but some of the compositions where written in some of the most beautiful islands of Hawaii as well, which Mike visits frequently.

For those who haven't heard of Mike Campese before. Think of Steve Vai meets Edward van Halen with a touch of Al Di Meola Which are also the guitar players who inspired him to take up the guitar.

The opening track "The Quake of Laviano" is a great introduction to his guitar playing. And on how the album is inspired on events and places. The opening track is inspired from an earthquake that hit Italy several years ago. This song will make your feet move, and the solo in this song will blow you away. Petit but ow so powerful

Mike is a versatile musician and he plays all the instruments on this album and performs the vocals as well.

His voice is relaxed and dreamy. The second song on the album "You Take My Breath Away" Is the first introduction to his voice, and its just the right one for this song. It combines the acoustic and electronic guitar sound. For me this song is one of the highlights of the album, It reminds me of one of my favorite Bruce Kulick tracks " I walk Alone"

Im not Familiar with Mikes previous solo albums and only knew him of his work with "Trans Siberia Orchestra" But his album was a real eye opener for me and showed me there are some great guitar players out there who deserve the same status as to name one, most of you will know or heard of .. Steve Vai.

According the press release this album features some of Mike's best acoustic guitar work since the all acoustic release, "Hidden Treasures", which was very well received. I cant say that's true as this is the first album I hear from Mike and I'm a fan now!

If you like shredding, fast solos and a sometimes a Spanish guitar then this is one for the albums and guitar players you Have to listen to.

I think the combination of acoustic and electronic guitar on this album will open a complete new world for you. Listen to it on your headset and just go with the flow on it.

For me the 14th song on the album "The Garden Isle" was a pleasure to listen to. It felt like sitting on the beach with close friends and just sing along. What a way to go to the last song of the album "Kona"

Here a sneak peak of the album..

Chapters will definitely be in my top 15 of best albums of 2016.

Full Feature – Click Here!