"Electric City" review – Mundo Rock.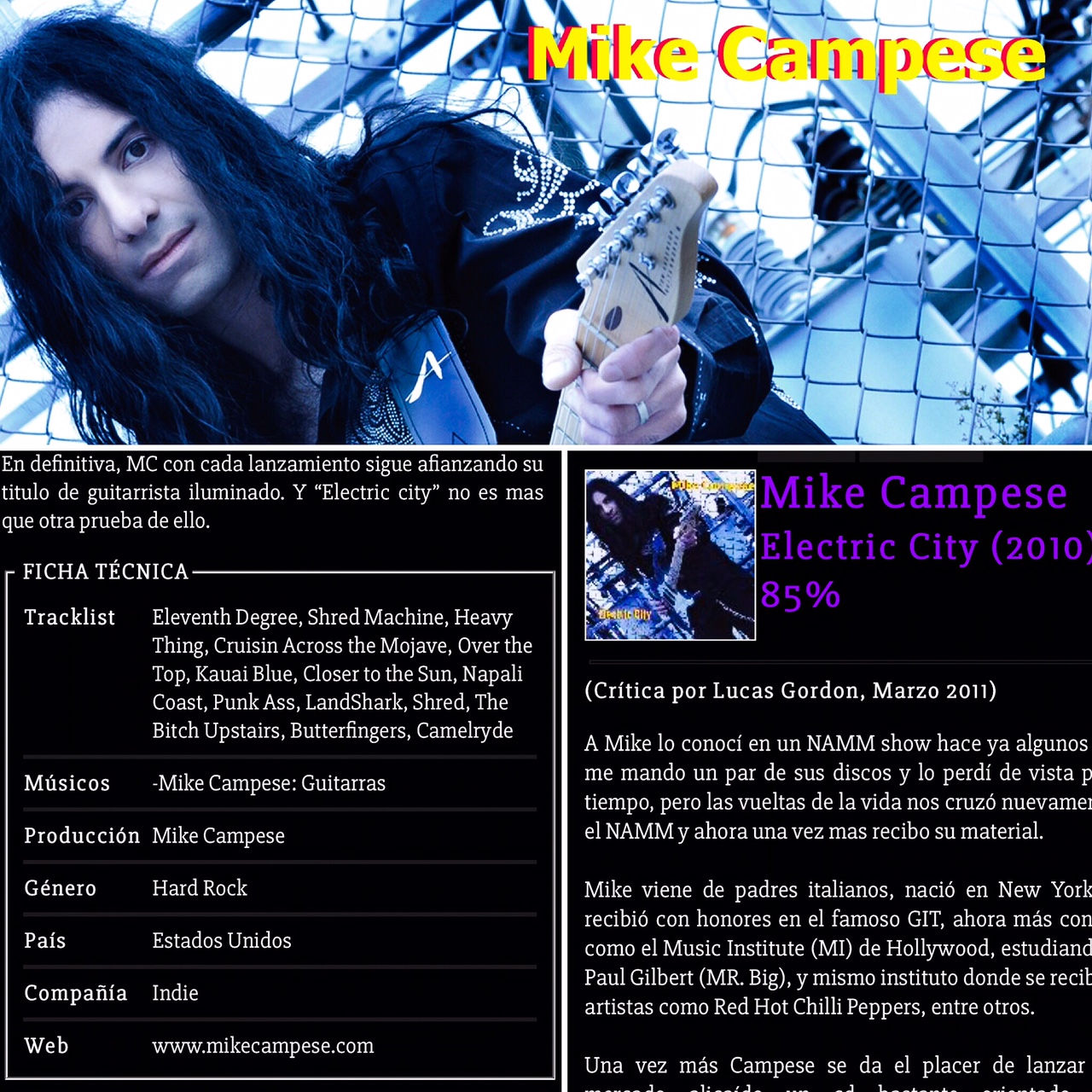 Mike Campese
Electric City (2010)
(Crítica por Lucas Gordon, Marzo 2011)
A Mike lo conocí en un NAMM show hace ya algunos años, me mando un par de sus discos y lo perdí de vista por un tiempo, pero las vueltas de la vida nos cruzó nuevamente en el NAMM y ahora una vez mas recibo su material.
Mike viene de padres italianos, nació en New York y se recibió con honores en el famoso GIT, ahora más conocido como el Music Institute (MI) de Hollywood, estudiando con Paul Gilbert (MR. Big), y mismo instituto donde se recibieron artistas como Red Hot Chilli Peppers, entre otros.
Una vez más Campese se da el placer de lanzar a un mercado alicaído un cd bastante orientado a lo instrumental, pero no netamente solo de instrumentos. Eso se debe a que hay algunas canciones donde el mismo Mike canta.
Pero aparte el ejecuta cada instrumento y sonido que se escucha en su séptima edición titulada "Electric city".
Este album tiene disímiles atmósferas sonoras. Tiene un contexto, trasfondo que es rock metal eléctrico y acelerado, pero dentro del grosso del asunto se expande a distintas facetas.
Me causa curiosidad que los temas cantados tienden a sonar mas alternativos, no se si será por la manera disonante de cantar de Mike que se orienta a lo que el grunge suele sonar.
Lo prog se asoma con la complejidad que se puede apreciar en "LandShark" que si uno relaciona cabos, tendría que ser solamente instrumentos, pero es cantado.
"Kauai Blue", da la impresión al principio de que va a sonar mas alternativo, pero luego la manera en que esta compuesto el tema, me recuerda un poco a David Lee Roth y su timbre de voz sutilmente también me recuerda a Phil Collins. Que menjurje!
En algunas composiciones instrumentales, el neoyorquino pasa se lo clásico al shred, demostrando la facilidad de manejar las seis cuerdas a su piachere'!
En definitiva, MC con cada lanzamiento sigue afianzando su titulo de guitarrista iluminado. Y "Electric city" no es mas que otra prueba de ello.
FICHA TÉCNICA
Tracklist Eleventh Degree, Shred Machine, Heavy Thing, Cruisin Across the Mojave, Over the Top, Kauai Blue, Closer to the Sun, Napali Coast, Punk Ass, LandShark, Shred, The Bitch Upstairs, Butterfingers, Camelryde
Músicos -Mike Campese: Guitarras
Producción Mike Campese
Género Hard Rock
País Estados Unidos
Compañía Indie
Web www.mikecampese.com
See full article here. Click Here!