"Reset" Review, by Music Street Journal
"Reset"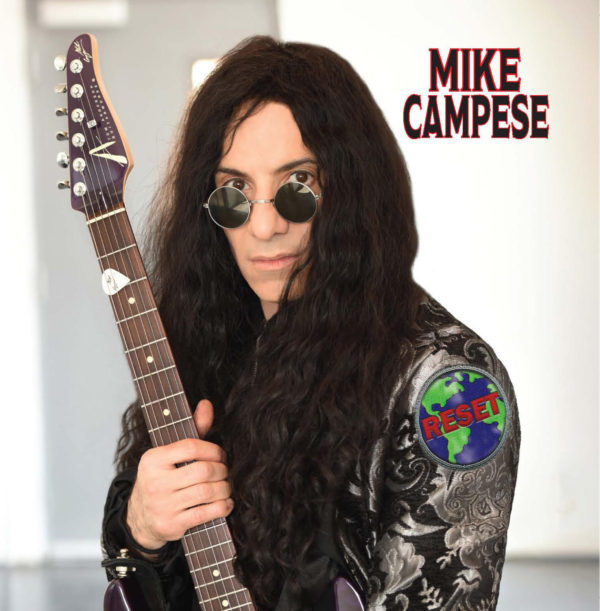 Review by Gary Hill
Mike Campese is probably best known for his guitar work with Trans-Siberian Orchestra. He's definitely a talented shred guitarist, as this new solo album shows. I actually considered putting this under prog because of the technical level of the playing a neo-classical elements. Ultimately, I opted for landing it under metal, but I think either heading could be argued as appropriate. While there are quite a few instrumental tracks here, there are a good number with vocals, too. There is a good range of sounds here, and this never feels like an excuse for guitar soloing. Rather these things feel like songs with impressive guitar work in them. 
This review is available in book (paperback and hardcover) form in Music Street Journal: 2023  Volume 2. More information and purchase links can be found at: garyhillauthor.com/Music-Street-Journal-2023. 
Track by Track Review
Fire
Fierce and technical out of the gate, there is a classical angle to this along with the metallic sounds. This is a powerhouse neo-classical screamer.
Bee Eater
Heavy, crazed and so intriguing, this seems to up the ante, even though I didn't think that was possible. There are some neo-classical moments on this screamer, too. The cut is a real powerhouse.
Tension in Motion
This seems more mainstream rocker, although it still has both the neo-classical and metal concepts at play. It's packed full of twists and turns.
The Truth
The first track to have some vocals, this is another metal powerhouse with screaming hot guitar work. The guitar solo section is absolutely incendiary.
Reset
A blues rock sound is on display as this gets going. It has more metallic concepts at its core than pure blues rock. The vocals on this don't work as well for me as those on the previous tune did. This makes me think of both Jimi Hendrix and King's X for different reasons. The guitar soloing on this is so expressive. He really brings a technical metal angle to that blues guitar kind of thing.
Dance
Fast-paced and almost proggy, this is another cool tune. It has a break to what sounds like a drum machine. Then the neo-classical guitar soloing rises up as it continues. The vocals on this work really well.
Waisted Time
More of a mainstream metal romp, this has a great mid-tempo vibe and a lot of oomph. This is less technical, but no less cool.
Space Dragon
The opening two-minutes plus of this are definitely of the space variety. It shifts to frantic neo-classical jamming from there. This is a powerhouse of technical metal. It's also the first instrumental since the beginning of the album.
Talker
There are some classy melodies that create the introduction here. This has a much more mainstream pop music vibe to it in a lot of ways. Yet it's delivered with plenty of metal edge. The vocals return here and work well. This is a fun tune. It has a bit of a psychedelic rock turned metal vibe to it.
The Silent Weapon
More screaming hot instrumental technical metal is on the menu here. This thing is another that's purely on fire.
Let it Ride
I really dig the classy metal concepts at the heart of this. The vocals work particularly well. The guitar fills are so passionate and expressive.
Elephants in the Backyard
This is another killer metal instrumental with some scorching hot guitar soloing.